VP@SEWB Newsletter: Happy Galentine's & Valentine's Day – On Love & Grace
Aloha Yellow Jackets,
As we observe Valentine's Day – whether with friends, family, with a partner, or just by ourselves - it seemed appropriate to focus on social wellness in this issue of our monthly newsletter. We will also cover the following topics:
•       Observing Black History Month
•       Hate Speech vs. Freedom of Speech
•       Continued Support for Our Global Community: Turkish and Syrian Students
Getting to Know Social Wellness
As we continue to discuss one wellness dimension per month, February's focus is on Social Wellness. Last month I introduced you to Occupational (Career) Wellness, one of the Eight Dimensions outlined in the Cultivate Well-Being Action & Transformation Roadmap. Each dimension of wellness offers you a chance to identify incremental ways to adjust your self-care habits so as to generate lasting improvements in your life.
Observing Black History Month
While they may be challenging and cause for discomfort, deep dialogues about diversity, equity, and inclusion present opportunities to reflect on our own personal stories and explore how our own identities (and their intersections) have impacted our life experiences. Nobody has the right to dictate our beliefs, ideas, or opinions. Yet we are each responsible to develop a worldview that is based on maximizing our opportunities for knowledge and on critical analysis.
While I believe we should acknowledge and honor the history of Black America every day, February is designated in particular as Black History Month. At Georgia Tech, our values are foundational to everything we do; thriving on diversity is a stated pillar of that foundation. As we celebrate the numerous achievements and contributions of Black Americans in building and developing our country, as well as in fostering excellence and innovation at Georgia Tech, we also need to recognize where systematic racism persists and give visibility to, as well as amplify the efforts of, those striving for substantive change.
For one thought-proving essay on this issue, I recommend Wesley Lowery's recent contribution to The Atlantic, Why There Was No Racial Reckoning, which reflects in part on the killing of Tyre Nichols by law enforcement officers in January. These systems will persevere as long as we allow them to. I invite each of us to explore ways in which we can translate stated commitments into actions and choices – ones which reflect humane love for and extend grace to all members of our community, even if we do not always agree with some of them. 
Hate Speech vs. Freedom of Speech
Students have reported that there seems to be an uptick in external speakers coming to Georgia Tech and exercising their rights to free expression. Some students have found the speech hateful, insulting, and demeaning. As I shared in my newsletter last October, as a public university in the State of Georgia and the United States, unless the speech violates the law, we must honor the constitutional rights of individuals to express their beliefs, opinions, and ideas – no matter how offensive those expressions may be to us. This is codified in the Forming Open and Robust University Minds (FORUM) Act (Georgia HB1, 2022).
As an educator, I personally condemn individuals who come to Georgia Tech and make statements that make *any*Georgia Tech student feel invisible, unwelcome, or dehumanized. It is particularly unacceptable when students are targeted on the basis of any of their identities.
While we cannot ban these individuals from campus, we can counter-speech that we find hateful by exercising our own rights to free speech by:
Setting up counter-protests;

Writing editorials in campus and community newspapers;

Posting on social media to call out (or call in) speakers with whom you disagree or take offense; or

Organizing your own event to raise awareness, dispute myths, educate about facts, and promote the

strategic values of Georgia Tech

.
Remember that one can always walk away from a speaker whose expression is causing you distress. A variety of resources exist at Georgia Tech, many of whom accept walk-ins should you need immediate emotional or psychological support. These include, but are not limited to, the Center for Mental Health Care & Resources, the Dean of Students Office, and our various identity-based student centers.
Continued Support for Our Global Community
Currently, many nations are confronted with significant challenges, conflicts, natural disasters, and/or outright war. As a global community, many of us feel the impacts, in some cases deeply. The devastating aftermath and unprecedented loss of life suffered in Turkey and Syria last week continues to unfold.
For our students who have family or friends in that part of the world, please know you have our compassion and empathy, and you are in our thoughts. As a reminder, resources available for assistance can be found via Canvas.
As Provost McLaughlin and Executive Vice President Abdallah stated in their email to all faculty last Friday, outreach to our current and admitted students from the affected areas has been underway. Members of our Georgia Tech community, including staff from the Office of International Education, the Office of Enrollment Management, and the Office of the Dean of Students, are making themselves available to students who need support.  For those of you who are not from the affected areas, there are countless ways to help the people in Turkey and Syria by donating your goods, time, or money.  This is definitely another time to demonstrate love and grace.
In solidarity and peace,
Blank Space (small)
(text and background only visible when logged in)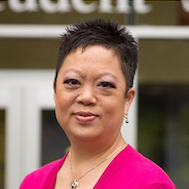 Dr. Luoluo Hong
Vice President for Student Engagement & Well‐Being