VP@SEWB Newsletter: Giving Thanks All Year Long
Aloha Yellow Jackets,
As the Winter 2022 holiday season approaches, I want to acknowledge that the Yellow Jacket community comprises individuals of many faiths and expressions of spirituality. As such, we each may celebrate different holidays (or none at all) at this time of year, as well as do so in ways that honor our traditions, cultures and beliefs. However, the practice of gratitude can be a common theme for all. In this issue of my monthly newsletter, we will cover the following topics: 
Getting to Know Intellectual Wellness

Understanding Gratitude for Improved Wellness & Success

Student Resource Guide

Support for the LGBTQIA Community
Getting to Know Intellectual Wellness
We will continue to discuss one dimension per month for the rest of the academic year.  This month we focus on Intellectual Wellness. Last month in my newsletter, I introduced you to Spiritual Wellness, one of the Eight Dimensions outlined in the Cultivate Well-Being Action & Transformation Roadmap. The dimensions of wellness are areas in which you can engage in self-reflection and identify small ways to adjust your self-care habits so as to make big impacts in your life.
Understanding Gratitude for Improved Wellness & Success
The holiday season is the usual time of the year when nationally we talk about "thanks" and "giving." The practice of gratitude, which is a core practice in mindfulness, is about more than saying "thank you" or engaging in an act of kindness to others.  Research confirms that the simple acknowledgment of the feeling of gratitude can improve your emotional well-being, reduce stress, increase optimism, and mitigate feelings of depression and anxiety throughout the year. Earlier this month, JAMA Psychiatry published the results of a study that showed mindfulness-based stress reduction strategies were as effective as the drug escitalopram in the treatment of anxiety disorders.
Gratitude is not necessarily an intuitive or natural practice for all people, but it can be learned and honed over time. One can begin by developing new habits. For example, how often do you feel thankful for the positive things in your life – whether they be people, places, experiences, or your own abilities and strengths? Writing or jotting these things down can make the exercise more concrete. Even noting the smallest positive thing can have a beneficial impact on your emotional wellness, increase the release of dopamine in your brain (the feel-good hormone), and help to reduce stress and anxiety.  
Now allow yourself a moment to focus on and enjoy that positive feeling, no matter what challenges may exist in your life at the same time.  It may only take a few minutes, but this brief investment of time can be incredibly impactful.
The second step is to implement this practice regularly – daily if possible - and one way to do that is by keeping a gratitude journal.  The Wellness Empowerment Center has a journaling program that will guide you through this practice and in only 5-10 minutes a day, you can track what you are grateful for, change your brain's chemical makeup, and experience the long-term benefits of this practice.
Regardless of who you are and where you are in life, the benefits of gratitude practice have been deeply researched and are undeniable. Even while we may not all observe the Thanksgiving holiday, we can start and sustain a gratitude practice so that we may benefit from it all year long.  
Student Resource Guide
I know many of you are feeling the crunch of the end of the semester and finals looming in front of you. Georgia Tech does have a swarm of resources to support your holistic wellness or support your academic support needs. To more proactively and efficiently assist students with the mitigation and resolution of issues that may be roadblocking your success, the Division of Student Engagement and Well-Being created a Student Resource Guide.
I encourage you to bookmark this page and refer to it whenever needed. Students can use this guide to better understand who to contact when a need arises and proactively connect with the right office or department on campus to solve problems or concerns.  The Division of Student Engagement and Well-Being remains one of many resources available to you for assistance, advocacy, and support.
Support for the LGBTQIA Community
While writing this newsletter, I learned of horrible news that weighs heavily on my heart. It's important that I close by acknowledging the senseless violence that took place Saturday night in Colorado Springs. Five people were killed and over two dozen others were injured in a mass shooting at Club Q, a gay nightclub known to be a safe haven for the LGBTQ community. I want to express my condolences to the friends and families of those impacted.  Members of our LGBTQ community and their allies here at Georgia Tech may be experiencing emotional and psychological impacts from this incident – understandably so. Along with the other available resources noted above, the Georgia Tech LGBTQIA Resource Center is available to provide a "safe space" for students who would like to reach out for comfort and community. While we always have more work that can be done, Georgia Tech will continue to strive for a community that fosters belonging, inclusion, and safety for all.
In solidarity,
Blank Space (small)
(text and background only visible when logged in)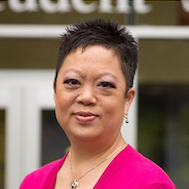 Dr. Luoluo Hong
Vice President for Student Engagement & Well‐Being